Dark and often evil Stouts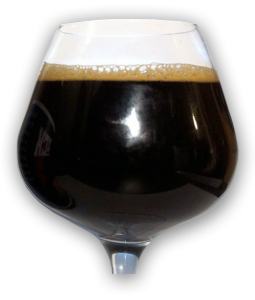 "Oh it was gorgeousness and gorgeosity made flesh. The trombones crunched redgold under my bed, and behind my gulliver the trumpets three-wise silverflamed, and there by the door the timps rolling through my guts and out again crunched like candy thunder. Oh, it was wonder of wonders. And then, a bird of like rarest spun heavenmetal, or like silvery wine flowing in a spaceship, gravity all nonsense now, came the violin solo above all the other strings, and those strings were like a cage of silk round my bed. Then flute and oboe bored, like worms of like platinum, into the thick thick toffee gold and silver. I was in such bliss, my brothers."
Tolchock
This is beers with attitude, they are strong Imperial Stouts from 10%ABV up to 21%ABV. Loaded with dark malts. Sometimes they come with various twists such as oats, licorice, chocolate. Sometimes oak aged with various liquors to add extra character. Here is a list of a few examples.
– Imperial Stout (10-12 %ABV, 90-120 IBU) (#004, #023)
– Russian Imperial Stout (12-18 %ABV, 100-150 IBU)
– Oymyakon Siberia Stout (18+ %ABV, 130-170 IBU) (#034)
Yarbles! Great bolshy yarblockos to you.
Moloko Milk+
This is milk stouts / sweet stouts of course (do I need to explain?)…
– Pete (5-8% ABV)
– Dim (8-12% ABV)
– Georgie (12-18% ABV)
– DeLarge (18+ %ABV) (#034)
'tis is a milk-plus for all ye droogs.
Other Stouts
Not all stouts we make is Clockwork Orange themed. We made everything from pancake porters (#039) to really dark bacon stouts (#046). Normal ones to!