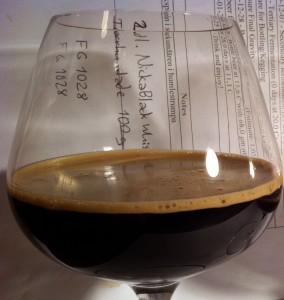 On December 3'rd 2010 I brewed the second batch of my Russian Imperial Tolchock. I modified the recipe a little since the first batch. The major changes is that I added some malted oats for a fuller smoother body. And less licorice root, but it still have the distinct taste of licorice that I want.
On December 11'th I added Nikka whiskey soaked oak chips to the second fermentation stage, and let it age for nearly two months. The first time I made the Tolchock I added priming sugar in the bottle and got very low carbonation. I guess the yeast had done it's job already and refused to eat the sugar and fart out gas. So last Monday I kegged it instead to get carbonation this way, and yesterday I bottled it.
I got 9 liters into six 50 cl bottles, and seventeen 37 cl bottles, a total of 29 bottles. And what you see in the glass was to little for a bottle so I drank it and…
Oh bliss! Bliss and heaven! Oh, it was gorgeousness and gorgeousity made flesh. It was like a bird of rarest-spun heaven metal or like silvery wine flowing in a spaceship, gravity all nonsense now. As I slooshied, I knew such lovely pictures!
Yarbles! Great bolshy yarblockos!
This is a milk-plus for myself all me droogs.