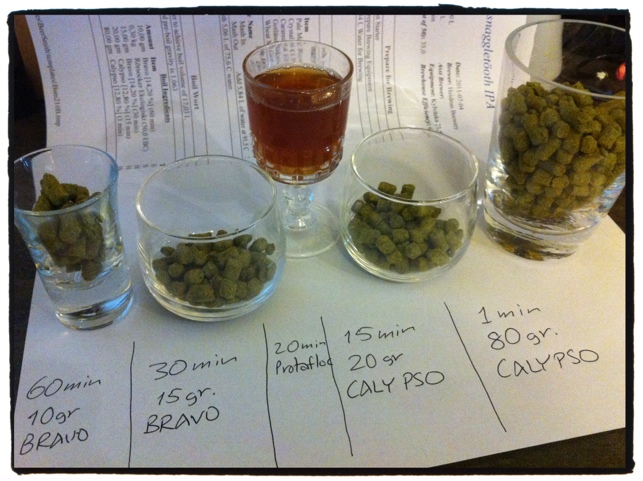 Today I brewed the first batch of Snaggletööth IPA. It is a smoked, well hopped and oak aged India Pale Ale. This is the smaller brother of the infamous Snaggletööth Barleywine I did in December last year. Like before I will soak the oak chips in Jack Daniels whiskey, then pour everything in to the second fermentation for 2-3 weeks. I'm also using different hops this time, it is the first time I use Bravo and Calypso hops. I checked the internets for ideas, and I think Bravo will do fine as bittering, and Calypso as aroma. I don't think I need to dry hop this one, 80 gr with 1 minute in the boil will make plenty of aroma anyway.
Batch size 10 liters (Estimated)
OG 1074 (Estimated)
FG 1020 (Estimated)
ABV 7% (Estimated)
IBU 81 (Estimated)
EBC 30 (Estimated)
It is also too warm in my apartment so I'm fermenting in my beer fridge with thermostat, it starts when the temp is 21,5C and off when it's 19,5C. I also prepared with 20 gr medium roasted oak chips in 33 cl Jack Daniels, put it in the cupboard until second fermentation. The main reason I soak them in whiskey is to kill bacteria.
Pictures