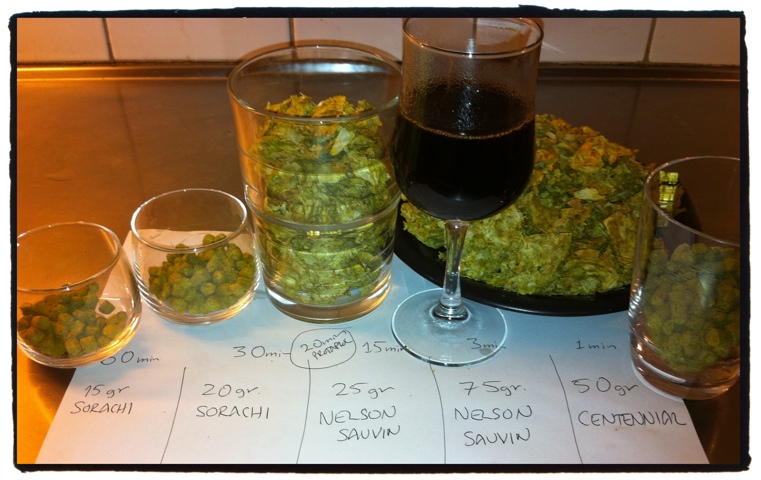 I decided to make an Imperial Black IPA or IBA, CDA (Cascadian Dark Ale) or what ever you like to call an overhopped black ale. I did a Ninja IPA in July last year and I think this is one of the best ones I ever made. The recipe was spot on, I tried many other Black IPA from Amager, Stone, Southern Tier, Beer Here etc. But I like the one I made best of all.
Why is that, well maybe I have a completely different idea. The Ninja IPA have less roasty tones than all others I tried, but it is still pitch black. Maybe those brewerys want it that way, not me. I do like heavy stouts, but I don't want an overhopped stout.
So I decided to make another batch and bring it to the SHBF (Swedish home brewers asssociation) "competition" in May. I think I will give them to the jury and the "peoples choice" competition. But I'm not 100% sure, because it is not the original recipe. It is not the same malts, and not the same hops because I had to use what I have. I actually never tried to make the exact same beer (same recipe) twice because it is more fun to experiment and get the feeling of how it will turn out when brewing.
If it doesn't meet up to what I expect I might not bring it to SM, we just have to wait and see. I hope you will come to this event and taste it, and considering giving me the vote if you find it is the best 🙂
SM i hembryggd öl 2011
I will be there, you will recognize meand the goate ;-).
Saturday on May 7'th. Come early because I will only bring one small keg of 9 liters! See this web site for more details.
OG 1093 estimated FG 1026 = ABV 8.8%
IBU 93 (and Dry hopped as hell)