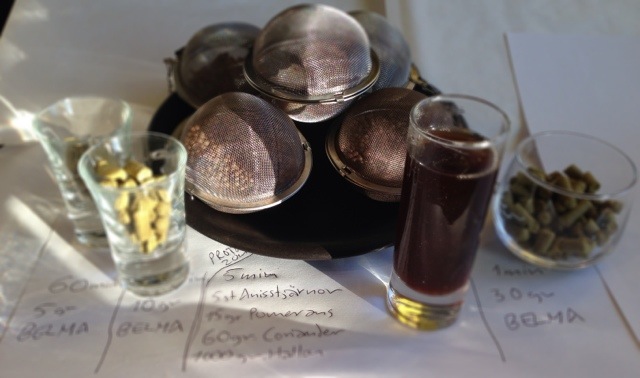 Ok, I'll be short today (I think). Today I'm brewing what I call Voodoo Juice (any kind of beer with spices and shit in it). I used pale malt and wheat malt, and cold mashed Chocolate Dinkel/Spelt Malt. The spices is Coriander, Anis Star, and Pomerans (Bitter Orange). Also at the end of the boil I'll add 1kg raspberries for the ~20 liter batch. The little hops I used was Belma hops. I'm using a new yeast Safbrew wb-06, it is for wheat beers so I think it will be good.
It was a sunny day but quite cold and I was in the mood for Ska music which I played all day. Here is some pictures…
OG 1062
Estimated FG 1016
Estimated ABV 6%
Estimated 15 IBU
Estimated 24 Liter Batch (first fermentation)
PH down from 8.5 to 4.6
In the second fermentation I will split the batch up in two, I might add Chocolate nibs to one of them. And maybe more Raspberries?
What should I name the beer?
Edit 2013-03-24: I named the beer to Kånkelbärs (I can't really tell you what that means, you have to look it up, and when your back up again you can ask why?!