Before I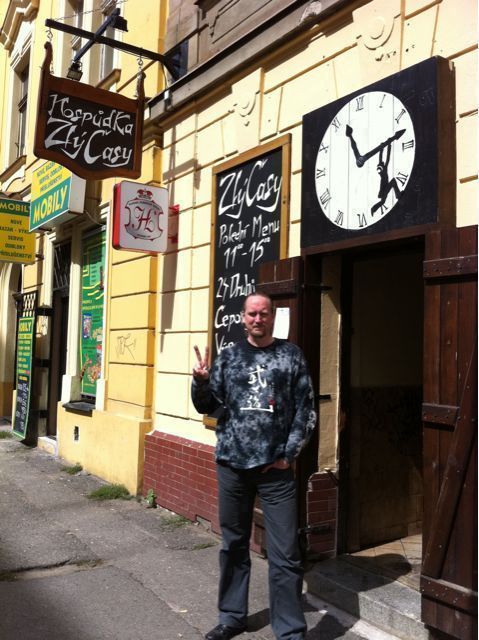 went to Prague I had g**gled for Czech craft beer, it wasn't easy to find but I did. I found Zlŷ Čhasy (bad times; the only bad was that it closes at 24:00). It's a pub with 24 taps of Czech micro breweries, mostly unfiltered lagers but also a couple of weiss, pale and other ales. I tried about 6-8 of them. My favourite at this pub was Lipan which was a svétlŷ ležák, pale unfiltered lager. They also had Samurai IPA from Kocour Pivovar Varnsdorf, but I thought it was better from the bottle (maybe the keg was old?).
Pira't was a pretty good Amber lager. Velen was a really good Bavarian style of wheat beer. I forgot the others on draft I tasted there.
There is also a beer shop in connection with the Zlŷ Časy pub where you can find many, many beers from Czech micro breweries.  I was surprised to see they also had lots of imported microbrews from Nøgne, Mikkeller, BrewDog and many more micro breweries, no industrial beers at all :-).
The picture below show barely half the shop, the opposite wall had more shelves plus 4 full sized refrigerators.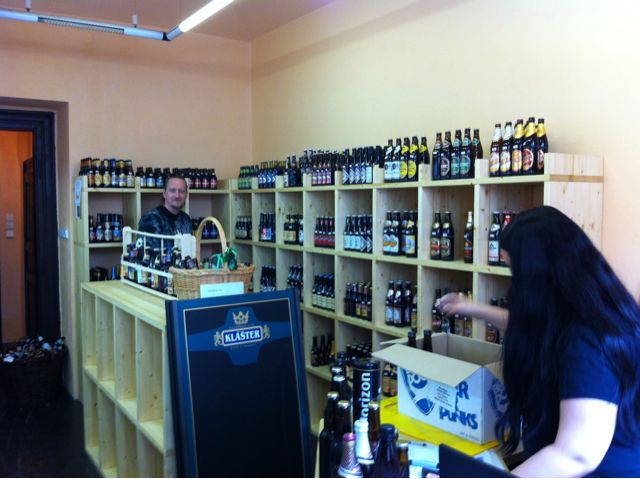 The bottles I bought from this beer store was…
Kozour Tmavŷ Ležák, dark lager (very good)
Kozour Ležák, golden lager (good)
Kozour Weizen (very good)
Kozour Visnovy, cherry lager (good)
Kozour Pale Ale (very good)
Kozour American Samurai IPA (very good)
Primator Stout (good)
Primator 24° (way to sweet porter)
Matuska Tmave, dark lager (very good)
Matuska Pšenične, wheat (pretty good)
Harrach Tmavy Ležák (very good)
I also got some Nøgne Ø, and Mikkeller, plus a Brewdog on bottles that I never had before. I brought it back home, checked in as luggage. I will save them for a while and have one when appropriate ;-).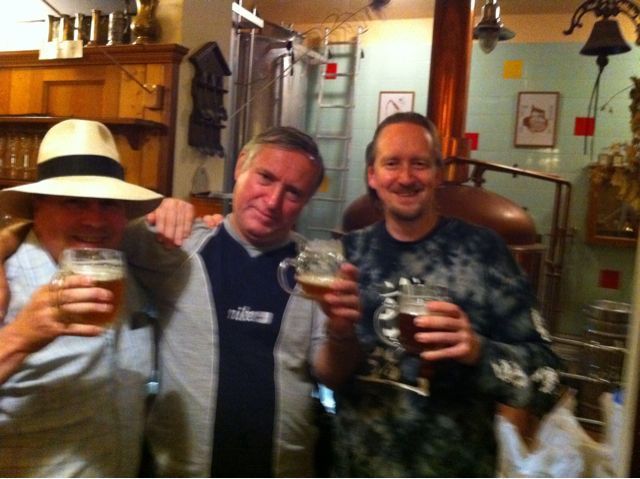 After our visit to Slŷ Časy we met an English guy (left in the photo) that took us to the Sousedský pivovar Bašta pub and brewery close by. We was greeted by an older guy (middle in the photo) that presented himself as the brewmaster. He showed us a picture of himself on the wall with a "soup of the year" award. We asked about the brewery but he didn't seem to know much (or his English wasn't so good?), the bartender explained more. After he left the bartender said that; actually he is not the brewmaster, he is the police chief :-D. The dark unfiltered lager and the wheat beer was both very good.
After this we went to the Prvni pivni Tramway bar at the end-stop of the tram line 11. They had Brew Dog on tap and many bottles.
We also had many other dark beers at several pubs, but most had the same industrial beers as everyone else. Mostly Urq*ell's and Bu*war, I didn't drink any of those. The worst thing about the pubs is that they all close at 24:00, even on Saturdays, that sucked.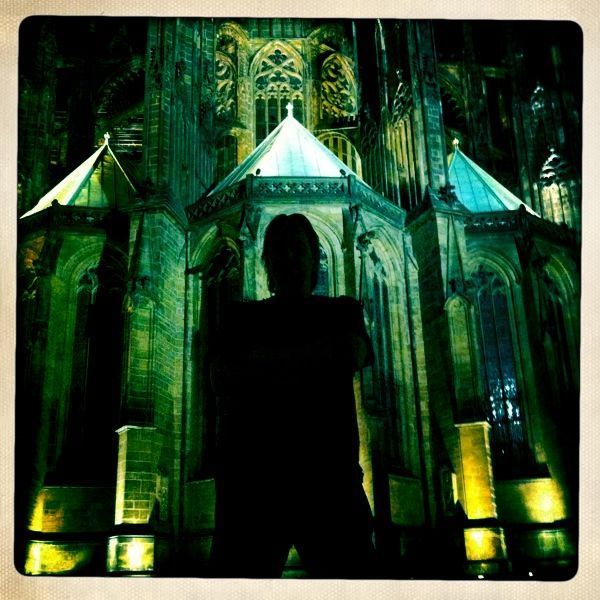 I had a good time in Prague, I especially liked the Saint Vitus cathedral. Too bad that there was buildings surrounding it so that it wasn't possible to see anything except the towers from distance. From one side you could see it properly, it's where I took this cool picture (above).